Paradise on earth
I have found a new paradise on earth, where I self (as a granny some day), still will come to nurture my innerself. Because that is a luxury one can never neglect. To be part of this loveling community. Every year 25.000 souls come to Omega Intitute for only one purpose: to heal the body, mind & soul. The possibilities in retreats and workshops are overwhelming. From inspiring writers, spiritual leaders to welknown motivating coaches/teachers.
Thanks to their help, your body can get a transformation at any level.
Mayby you need to write all your frustration or sadness in a mémoire to feel liberated. Or mayby you want to look for your past lives, so you can understand your anxieties and fears to move on. Or just mayby you want to do nothing, take a few days away from your life and take some selfie-time to relax.
This all in a woody nature setting where our Landal Green Parcs can only dream about. I have seen a few spiritual places, but this one is definitely the most profound one, like the type: Why do we need to go home again?!
Every morning the mystical fog on the lake disappears, because of the sun beams telling that the sunrise has arrived. The hiking routes all over this place where every woman still would feel safe in the nights. A sanctuary build on top of a hill, hidden behind the trees like a diamond hidden underneath some grey stones.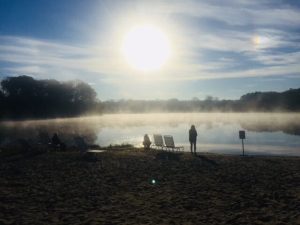 Enlightment
The Omega café where you can get all the caffeine you think you need, black or latte with vegan/vegetarian or whole milk and eveything in between. Fresh (glutenfree/vegan) sweets and cookies you just can't resist, so it will never only be a coffee (or I was the only Nerd who did this). Three times a day the buffet is opened by the volunteers, blowing on conch seashelves as they are blowing on a wistle. It sounds like you are being called by Disney's little Mermaid herself. Telling; come in and overload your belly with all this green organic food. And sometimes a little wisper that she serves meat dishes.
Mornings and evenings are filled with different kinds of workshops/concerts for who want to have a try!
This is Omega Institute Rhinebeck, where transformations happen all of the time. This is a place where people change positively and this is one of the only few places where there is so much love, harmony and respect. Even so much that every single human being who thinks "spirituality" is just some BS, would have an spontanious enlightment!
I have never felt more welcome and loved. Ok.. to be honest.. the numbers do count. Yes, a little monastry in the Himalayas with room for only 40 people or a Ashram in the north of India where maximum 30 people can attent don't count on the already 150 people tending my workshop next to the people tending all of the other workshops on Omega. From some Little shy love till the big "mucho" love… Love is all over this place! And you can feel it…. aha!
From the train, the taxi to Omega and back to the taxi and train.. who ever you will encounter.. you'll share the same vibes. Constantly you have the opportunity to make new connections, and I'm not talking about your FB connections.. talking about connections on a way deeper level?
And for your information, this is not a blog with commercial benefits for Omega institute, yet. Couldn't make a deal with them, working on that part…kidding, no this is just an ode to this Beautiful place and all the wonderfull people I have met.
Later this memory will fade away like a snowflake before the sun, and I will no longer drift on this nice warm pinky cloud full of love, harmony and respect and it will all feel like a memory of an past live…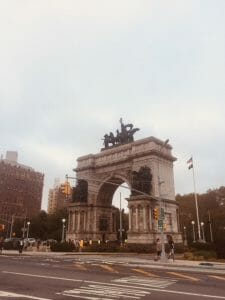 The Big Apple
Back to the Big Apple city Life!! Here, where lots of people living like strong individualistic beings. Here, on the subway with tons of people that come and go every day. Here, this concrete jungle where Alicia Keys is singing so proudly of..
I am just happy to been in both worlds.. From materialistic, to minimalistic back to materialistic.. but it is here, where I lost a piece of my hart… which is good!
My last evening with this amazing people coming together in a lovely Yummie vegan restaurant somewhere in East Village. And halve of them didn't even know each other but the Omega loving vibes are still sensibele. Then the next day sitting in the back of my second UBER drive on my way to the airport (oops, sorry Friends who warned me not to do this: I was totally OK) I feel so safe and zen. On the background some happy south african music beats and the skyline of New York City fades away on the other side of my window.. wow…. me to wanna sing.. sing that I've there as well!
So simple it can be, as an mimimalist I will take all of this back to where life will ever take me again… want to know how to feel like this? Go be a Dora or Diego and explore yourself, it will only do you good!
Glow
Love, respect and harmony for everything on earth without judging will always be a daily battle, but one I welcome everytime till my last breath! Me, just a young female with apparently a strong glow on my face, so I've been told more then once. Funny when you walk the earth as an skate/rock/hippie human being and your make-up and hairbrush are somewhere still in Amsterdam Airport… But now… I do feel it.. this glow.. it's the glow of blissfulness.
The end… of this NY blog..
Oh no, not the end..
If you also want to experience a regression/progression hypnose session, cause that is the whole reason I traveled accross the ocean, please sign up on our website.
Or if you just wanna judge and have comments, please feel welcome, we can discuss that together with the American politics LOL
Only one love❤️❤️❤️